Nashville – Southern Comfort, And Country Music
Nashville is called the "Capital City of Country Music" and is home to a lot of musicians and aspiring artists. However, country music is not the only thing this city has to offer.
Nashville is one of the friendliest cities in the United States. By choosing to move to this southern city, you will settle into a home with a rapidly growing job market, budding healthcare industry, diverse culture, an exploding craft beer scene, and great restaurants and entertainment. It's not surprising why moving to Nashville is a dream come true for many.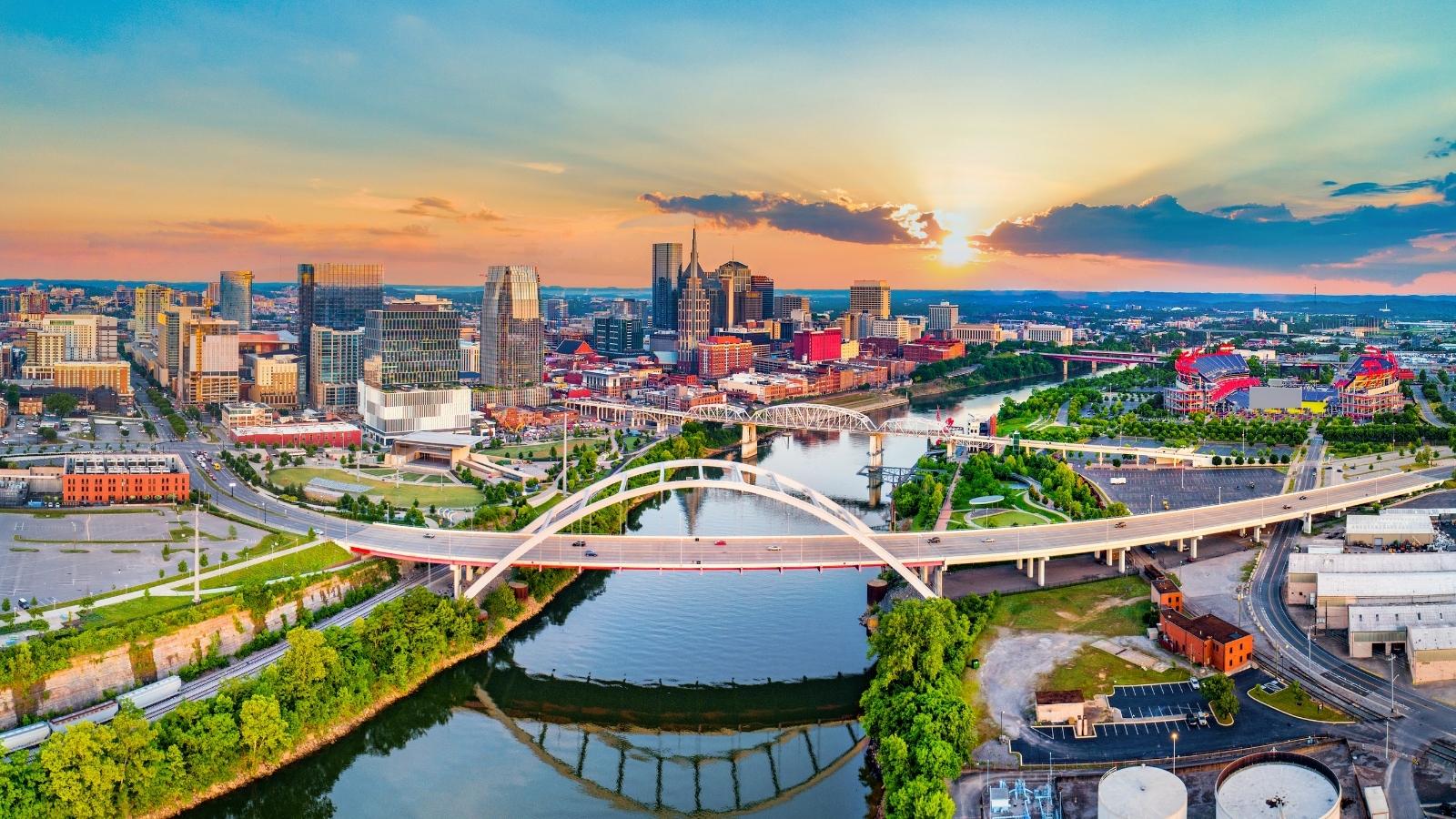 Brief Overview of Nashville
Nashville holds a good mixture of neighborhoods that cater to varying preferences. Here's a brief look at some of the great places to live in the city.
An area that is home to some excellent neighborhoods, you will love Downtown Nashville if you wish to live in the heart of the city. Each neighborhood has a vibe and personality of its own and is within walking distance of Broadway Ave., Bridgestone Arena, and Nissan Stadium.
Situated just a few blocks from Downtown Nashville, the Gulch is the fastest-growing neighborhood offering easy interstate access. The area is close to some of the best new restaurants and bars in town, and the cost of living is comparatively cheaper here than in the downtown area.
Home to popular neighborhoods like Lockeland Springs, McFerrin Park, Eastwood, Greenwood, and Maxwell, East Nashville has undergone significant renovations in the last decade. Currently, it is more community-centered and is a haven for arts and culture.
If you prefer a quieter neighborhood with suburban vibes, then look no further than the Brentwood area. Just a 15–20-minute ride from downtown, Brentwood neighborhoods have affordable housing options with more yard space.
A perfect option for young people, the neighborhoods in Music Row are filled with rentals occupied by college and grad students. It is also home to plenty of recording studios.
Nashville, Tennessee is also referred to as the "Athens of the South." This title was given to the city due to the numerous great higher education institutes in the area.
One can attend law, medical, engineering, or art degree programs at Vanderbilt University, music, nursing, and more at Belmont University, or get a degree in philosophy, history, or theology from Aquinas College. Additional opportunities to receive superior education are offered at Lipscomb University, Tennessee State University, Fisk University, and Nashville State Community College.
Similarly, for families with school-age children, the Franklin County School District offers some of the top-rated schools like Franklin High School, Clovercroft Elementary School, and Freedom Intermediate School.
Just like most other cities in Tennessee, Nashville features a humid subtropical climate with warm summers and mild winters. Generally, summers can be hot and sticky, with temperatures averaging 89 degrees. Nevertheless, this is when a lot of popular festivals happen in Nashville, including Nashville Pride, CMA Fest, and Bonnaroo Music and Arts Festival. So, residents brave the humidity and get outdoors to have fun.
Spring and fall are pleasant, while winters are mild. The temperatures drop to around 27 degrees during January and is accompanied by 4 inches of snow – enough to enjoy but not too much.
Public Transportation in Nashville
Nashville residents leverage the bus lines offered through WeGo Public Transit to get around the city. Furthermore, the Nashville Metro Transit Authority is working on plans to build a light rail system to facilitate easy transport across Nashville.
Make Your Home in Nashville
Regardless of what you look for in future home or place to settle down, you will find that in one of Nashville's many neighborhoods. Apart from that, the city has abundant green space, walkways for strolling, biking, or jogging, amazing attractions, museums, restaurants, shopping districts, and more. Additionally, the numerous events and weekly concerts held throughout the summer will ensure you never run out of things to do.
Lastly, Nashville is situated close to the North Central region. So, by choosing to move to this city, you will be within a two-hour drive of several amazing spots, such as the Great Smoky Mountains, Chattanooga, and the Kentucky Bourbon Trail.